MARGARITA TASTE OFF
Hosted by Candlelighters Young Professionals Group, Margarita Taste Off guests sip, sample, and vote as local restaurants vie for the title "Best Margarita!" Enjoy the event DJ, Raffle, Photo Booth, Light Bites and Tequila Tasting Station along with the most Meaningful Margaritas in town!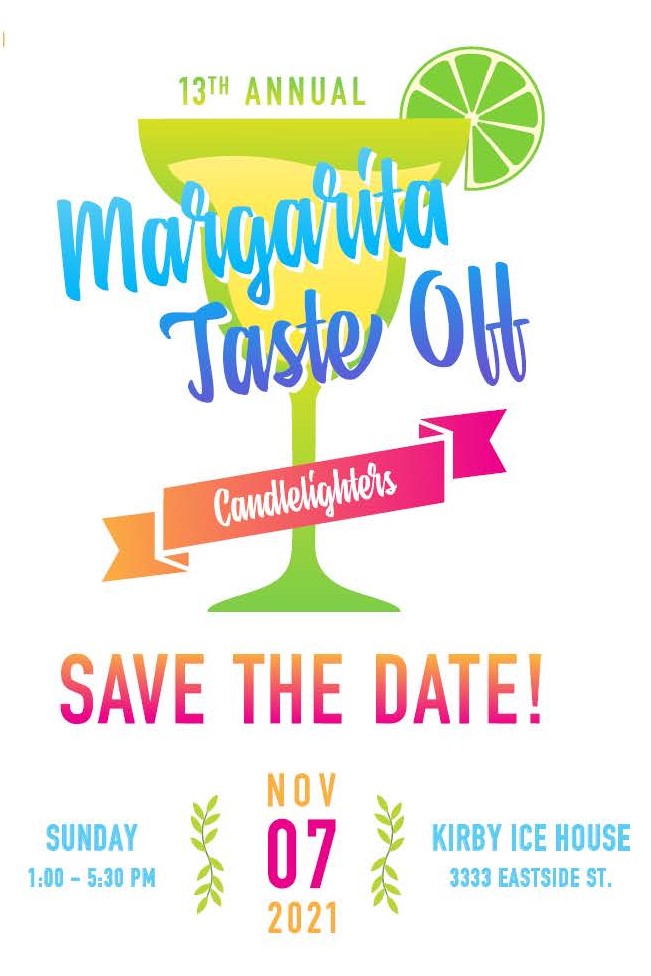 SUNDAY, NOVEMBER 7, 2021

TICKETS ARE ALMOST SOLD OUT.   CLICK HERE to purchase your Tickets or secure your Sponsorships (which include tickets to the event). We have almost reached our individual ticket capacity.   
2021 SPONSORSHIP OPPORTUNITIES
2021 PARTICIPANTS
Ambriza Social Mexican Kitchen
Cilantro's Cocina
Dish Society
Eight Row Flint
Emma's Mex Grill
Federal American Grill
Field & Tides
Harold's in the Heights
Kicpops
Kin Dee
La Fisheria
Los Tios
Mastrantos
State Fare Kitchen & Bar
Studewood Cantine
Trey
2021 SPONSORS
PRESENTING
Don Julio Tequila     |     Kirby Ice House
PLATINUM
Belmont Village     |     Matthew Whitlock     |     Alex & Aron Will     |     Rodgers World LLC / Cristin & Guy Rodgers    
GOLD
Brad & Audrey Chin/Bracewell LLP     |     Clovis Point Capital     |     First Horizon Bank     |     Granite Properties     |     Iberia Bank     |     Kendra Scott     |     WellBoss     |     WGA Consulting Engineers
SILVER
Eater Pass     |     Hayley & Joey Rippel      |     Social Behavior     |     Spark Energy     |     Kelsey & Jeffrey Tarpinian    |     PRN Realty     |     Marsh McLennan/Scott Newell      |     The Jennifer Grube Team / CrossCountry Mortgage LLC     |     USI Insurance Services     
BRONZE
Axis Communications     |     Amegy Bank     |     Better Homes and Gardens     |     Coldwell Banker Realty     |        Drs. Julie & Stephen Chen     |     Chicago Title Commercial     |     Drs. Julie & Stephen Chen     |     ExxonMobil Foundation     |     Higginbotham     |     Life-Like Laboratory     |     Natalia Miralles     |     Origin Bank     |     Cindi & Karl Priebe     |     Hayley & Joey Rippel     |     Syntex Energy LLC     |     Irene & Richard Wang
For more information, please contact Elizabeth Haines at [email protected] or (713) 270-4700
Admission will be EXTREMELY limited due to COVID-19 safety guidelines. We will be staying up-to-date with recommended safety measures as determined by the CDC and the venue, Kirby Ice House.