MARGARITA TASTE OFF
Hosted by Candlelighters Young Professionals Group, Margarita Taste Off guests sip, sample, and vote as local restaurants vie for the title "Best Margarita!" Enjoy the event DJ, Raffle, Photo Booth, Light Bites and Tequila Tasting Station along with the most Meaningful Margaritas in town!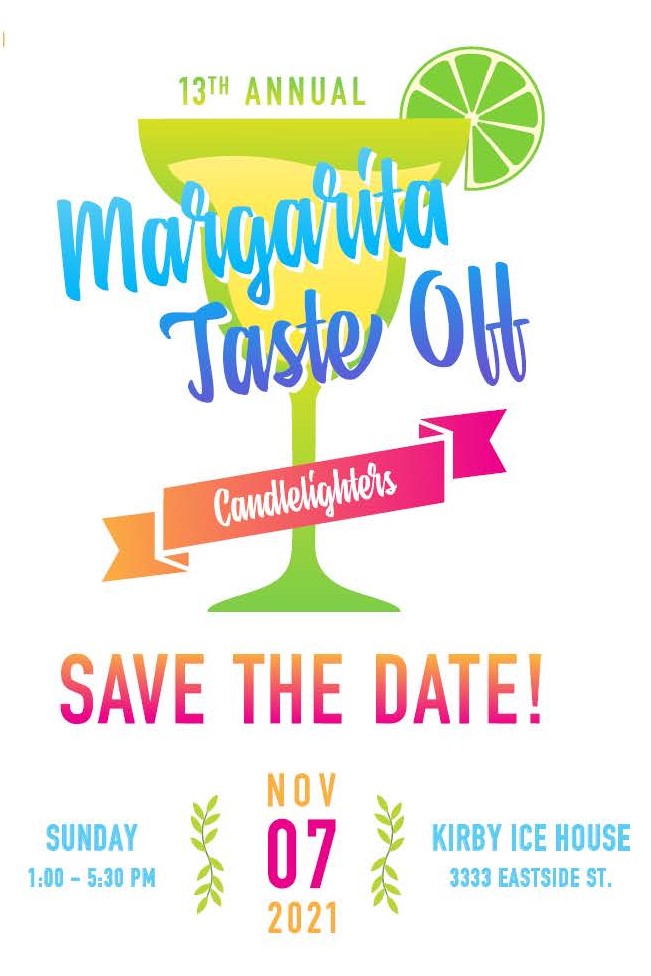 SUNDAY, NOVEMBER 7, 2021

TICKETS ARE CURRENTLY SOLD OUT.  At this time, the only way to attend the event is through the sponsorships which include tickets to the event. We have reached our individual ticket capacity and are tentatively sold out of individual tickets. If safety guidelines and recommendations related to gatherings change closer to the event date, we will announce when additional tickets become available.  
2021 SPONSORSHIP OPPORTUNITIES
2021 PARTICIPANTS
Ambriza Social Mexican Kitchen
Calle Onze
Cilantro's Cocina
Eight Row Flint
Emma's Mex Grill
Fat Boots
Federal American Grill
Field & Tides
La Fisheria
Harold's in the Heights
Kicpops
State Fare Kitchen & Bar
2021 SPONSORS
PRESENTING
Don Julio Tequila     |     Kirby Ice House
PLATINUM
Matthew Whitlock     |     Alex & Aron Will
GOLD
Clovis Point Capital     |     Granite Properties     |     Iberia Bank     |     Kendra Scott
SILVER
Chicago Title Commercial     |     Eater Pass     |     Higginbotham
Hunton Andrews Kurth     |     Move Me to TX     |     Hayley & Joey Rippel
Social Behavior     |     Kelsey & Jeffrey Tarpinian
BRONZE
Axis Communications     |     Amegy Bank     |     Bowen Miclette & Britt Insurance Agency Inc.
Cross Country Mortgage/The Jennifer Grube Team     |     ExxonMobil Foundation     |     Genetec
Global Aircraft Service     |     Jane & Jeff Hurley     |     Life-Like Laboratory     |     Natalia Miralles
Mary Caroline & Connor O'Leary     |     OpSolutions     |     Origin Bank     |     Cindi & Karl Priebe
Sold by Katy     |     Jennifer & Keith Steil     |     Syntex Energy LLC     |     Top Golf
Tudor Pickering Holt & Co.     |     Irene & Richard Wang
For more information, please contact Kelsey Tarpinian at [email protected] or (713) 270-4700
Admission will be EXTREMELY limited due to COVID-19 safety guidelines. We will be staying up-to-date with recommended safety measures as determined by the CDC and the venue, Kirby Ice House.